I am surrounded by eager faces demanding invertebrate identifications. There is a big moth with red on dark grey markings. I panic as my brain freezes then suddenly recall five spotted burnet moths. *

Here is a gloriously green metallic thick thighed beetle and a plant hopper.. And a sawfly larvae.. a garden spider spiderling…I am just about keeping up.. Phew.

When I was asked by an old colleague, a few wintery months ago, to give a family bug talk in Oxford, it was an easy yes for me. Especially easy as they were including bug hunting activities in a heavenly wildlife spot. Thank you Helen and Low Carbon West Oxford, for the invite and all your magnificent work.

So, I arrive at a stunning, wildlife-filled, ex-cricket ground on my birthday as it happens. Very soon I am having an thrilling time opening a box of treasures – insect sampling kits the wonderful organisers had bought in advance: pooters, nets, even the latest Collins insect ID guide. Treats for me let alone the children.

And those children got the gist of the task so quickly. With their parents and carers, they were soon enthusiastically bug gathering. So enthusiastically that it became necessary to move them from the fabulous meadow into the equally fabulous orchard to ensure minimal wildlife disturbance. This was a nice problem to sort!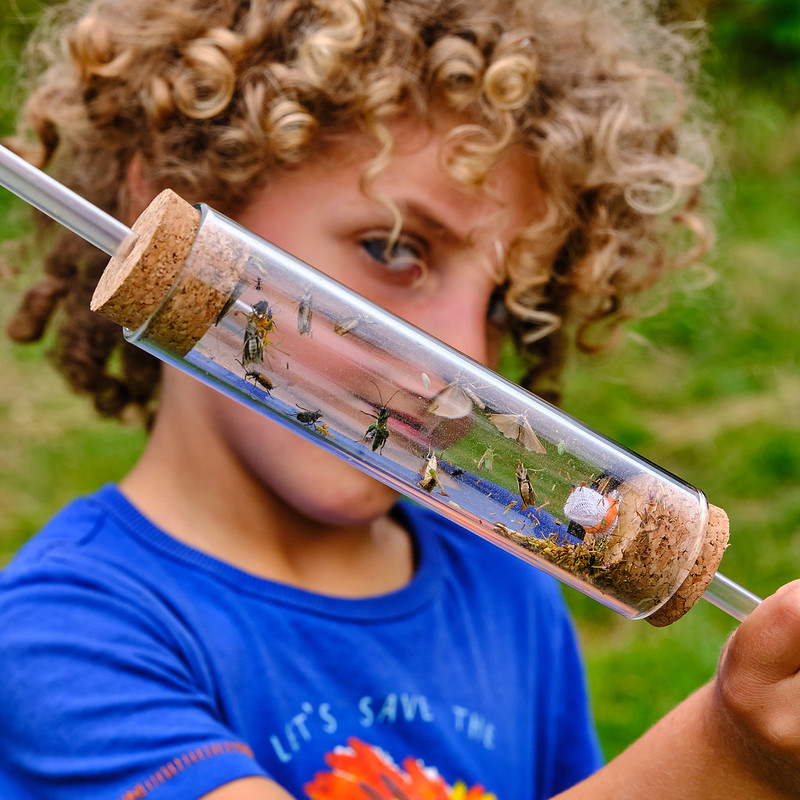 One sweep with the butterfly nets and a whole range of bugs were caught. Pooters are another gadget entirely – a special glass or plastic container with two tubes attached, one for you to suck in and one to put near small bugs you want to examine. There is a gauze on the sucking end, so you don't get a mouthful of angry bug. I was astounded by quickly the young children grasped how to manage this gadget. I could not ID fast enough! (See photo above!).

We found spiders, butterflies, moths, plant bugs, hoppers, bush crickets, caterpillars, mayflies and so much more. The sun shone despite doom warnings of rain and thunder. Hedgehog and mammal expert, who also is a great photographer, Hugh Warwick, took photos of the day. It was a good birthday.

Hogacre Common was the 14-acre site for our bug revels and it's a wonderful community wildlife reserve, created out of a gift of a sports ground and pavilion, by Corpus Christi College in 2011. Annual rent is a jar of honey from the plentiful hives now on the stream lined site. The community have already planted thousands of trees, maintained an orchard, started a fabulous food growing and training site, and created wild areas and meadows to explore. The gorgeous old pavilion is a cafe, using produce from the site.

Every village, borough, town, should have such a resource for wilding ourselves, learning about nature in nature, and having community events rooted in nature.

Rebugging the planet is as much about rebugging attitudes as anything. It's the chapter in my book that folk often comment on. I feel attitudes are changing and if this day was anything to go by, we have some seriously top-notch bug ambassadors in Oxford. If you live in the area do sign up to the Hogacre newsletters and go to the events and café.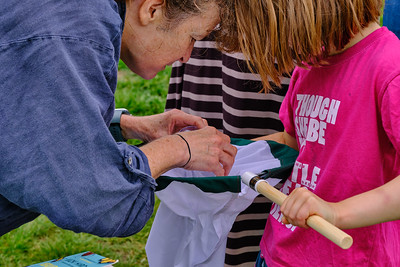 But we need more. Do spread the word. And if you need any more reminders about why I wrote Rebugging, have a watch of this wonderful film by Professor Dave Goulson, the BBC, and Studio Panda.

*I am now quite convinced it was a cinnabar moth😏. hey ho.