I will be speaking at events about my Rebugging the Planet book and other work on food and farming. I will add more as they are announced:
2022
22 April – Capital Growth Good to Grow event at Regents Park Allotments – details here – following the Capital Growth webinar on The role of agroecology in urban community gardens on 15 March available here.
15 May – The FarmED Mini Literature Festival – Inaugural literature festival, co-curated with Chelsea Green Publishing, is a celebration of words, stories and experiences from the wonderful world of agroecology, regenerative farming and sustainable food. I'll be talking about the new book. Also speaking will be Nicola Chester, Ben Raskin and Dan Saladino.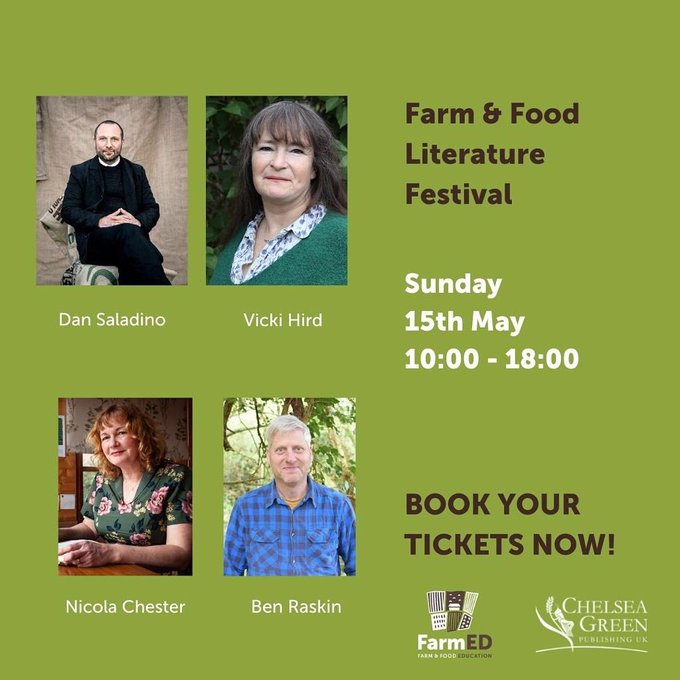 .
4-9 July – I'll be speaking at the RHS Hampton Court festival – final date and details to be decided but ill be doing two slots one day.
28 July – Salisbury Museum RES event on Insects – 730 pm – I'll be doing a talk on 'Rebugging the planet – one shop, garden, and vote at a time ".
29 August GreenBelt – talk on rebugging at the festival
26 September Big Picture Conference Perth, Scotland – looks like a fabulous line up!
28 September Big Green Week event in Witton-le Ware St Philips and St James church
2022 past events – links to watch again
2 February – The North London Organic Gardeners 8pm Wednesday 2nd February 2022 Carey Hall, Winchmore Hill Baptists Church, Compton Road, London N21 3PA Contact [email protected]
17 February – Biodynamic Association event at 7:30 -8:30 pm – Discover why bugs are in crisis, why this matters so much, and how we can all play our part in helping them and us survive and thrive. Free event online register here.
19 February – In Conversation with Vicki Hird and Nicola Chester. – with LizNoJan Books and Sustainable Tiverton – Saturday 19 February 1:30pm in the Mid Devon Campus Petroc, Bolham Rd, Tiverton EX16 6SH, UK. Sadly due to the storms this was cancelled but we hope it will happen soon.
2021
Stamfords in London – 11 November – book talk details TBC
Winter Hay literary festival 28 November 2021 I'll be talking about my book on Sunday.
Completed
18 September – Daylesford Harvest Festival – I will be chairing a session on nature friendly farming and (hopefully) signing copies of me book. It's free to attend.
Tbc – Bug Farm – details to be announced.